MULTIPURPOSE ABC TYPE STORED PRESSURE
Extinguishers is suitable for A, B & C Class of Fires, i.e Combustible solids,Inflamable liquids,Flamable Gases & electrically Started fires.
Can be used for
Class A – Combustible solids like Wood, Paper Cloth Trash etc.
Class B – Inflammable Liquids like, Paint, ink, solvents etc.
Class C – Inflammables Gases like LPG, Propane etc.
ESF – Electrically Started Fires
FEATURES
Easy to Use
Multipurpose
Maintenance Free
Tamper Proof Seal
ISI Marked
Pressure gauge
5 Years Warranty
Aesthetic Design
Good Throw
Variety In Size
Light weight
Trained Manpower not Required
CAPACITIES AVAILABLE
5 Kg, 10 Kg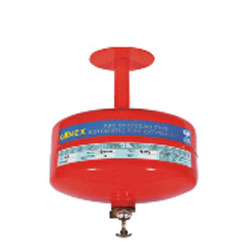 CLEAN AGENT TYPE
Clean agent type fire extinguishers, fire extinguishers are premium fire fighting units, environment friendly and exceptionally effective.
HCFC blend from the US EPA, NAF P IV.
Formulated to optimize both the physical and extinguishing characteristics closely to those of Halon 12111.
Used when an inert, electrically non-conducting media is essential or desirable
Used for computer, data center, server. Epabx, critical software rooms.
Evaluated by The Loss Prevention Council in UK.
Fire ratings of 70B and 5A have been achieved in accordance with CEN standard EN3.
Ingredients used evaluated under the PAFT chronic toxicity testing programme and confirmed to have no known chronic toxicity.
LC 50 is 13.9% and therefore allows safe use on NAF p IV.
CAPACITIES AVAILABLE
5 Kg, 10 Kg